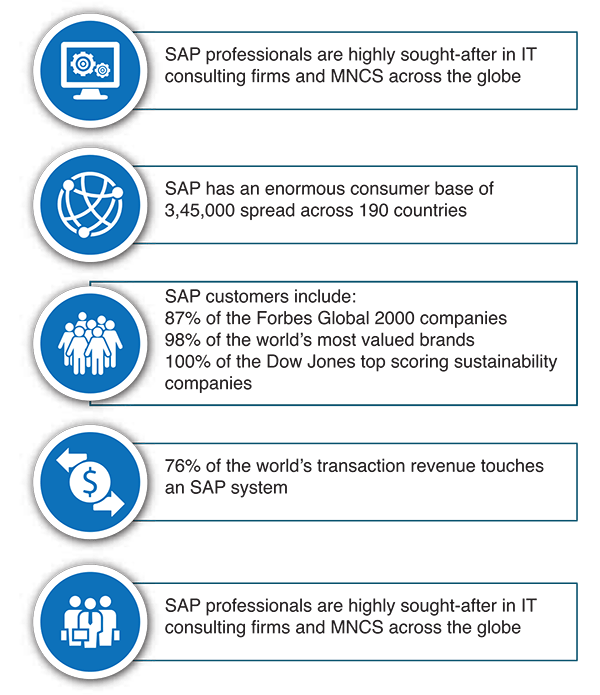 Why SAP?
The inception of SAP was as small software with the backing of just one customer in Germany by a set of visionary entrepreneurs in 1972. They started it with the vision of the software that can process data when a user wants, when a customer wants and not in overnight batch jobs like earlier software.
After 42 years of stellar existence as the leading global provider of enterprise application software, SAP provides products and services to more than 282,000 customer in 190 countries. Nine out of ten Fortune-500 companies have already implemented SAP, making it the choice of the leaders. And, there are yet other thousands of to-be Fortune-500 companies gearing up to be a part of this SAP revolution.
Backed by the strong growth trends in revenue contributions from innovations such as HANA, global acquisitions in the areas of database, mobility and cloud computing, and the rising demand for software licenses from small and medium sized companies, SAP has set its eyes on the following targets for 2015.
1. Achieve over € 20 billion in revenues
2. Reach 1 billion people

SAP Career Opportunities
SAP is a niche expertise and SAP professionals are always in short supply. (Source: AMR Research) With the launch of SAP R/3 in early 1990's, the way companies operate was transformed forever.
Businesses across the globe realised the power of SAP and how it can help synchronise their various business functions. This made SAP the undisputed 1st choice for businesses to streamline their enterprise wide ERP solutions. Since then, it has been no looking back for SAP.
Once a company implements SAP, it typically goes on a long-term cycle of optimisation, streamlining, integration and automation of its business processes through enhancements and use of additional functionality & technology from SAP. Every year, an increasing number of business enterprises worldwide entrust SAP professionals to implement and support these comprehensive SAP systems.
However, there has always been a huge gap between the supply and demand for qualified SAP professionals globally. Also considering SAP targets for 2015, it can be anticipated that this gap would only widen rapidly in the near future.