Meeting the need for affordable & flexible training at your college
Whether you are pursuing your masters or graduation, those who gain skills in SAP applications will be in demand, thats why SAP Education & VACS offers the SAP UAcademy programs delivered through online as well as classroom formats.
SAP UAcademy covers the same content that is offered through their Educations partners. The programs are spread over 4 to 12 weeks, these modular courses are designed by consultants and cover contents in Finance, Sales & Distribution, inventory Management, HR Etc.
On completion you will have the required knowledge & skills to appear for the globally acclaimed SAP certification which in turn will help you gain entry into the many SAP consulting companies as well as SAP user organisations thereby giving you an edge over others who are just completing their graduation.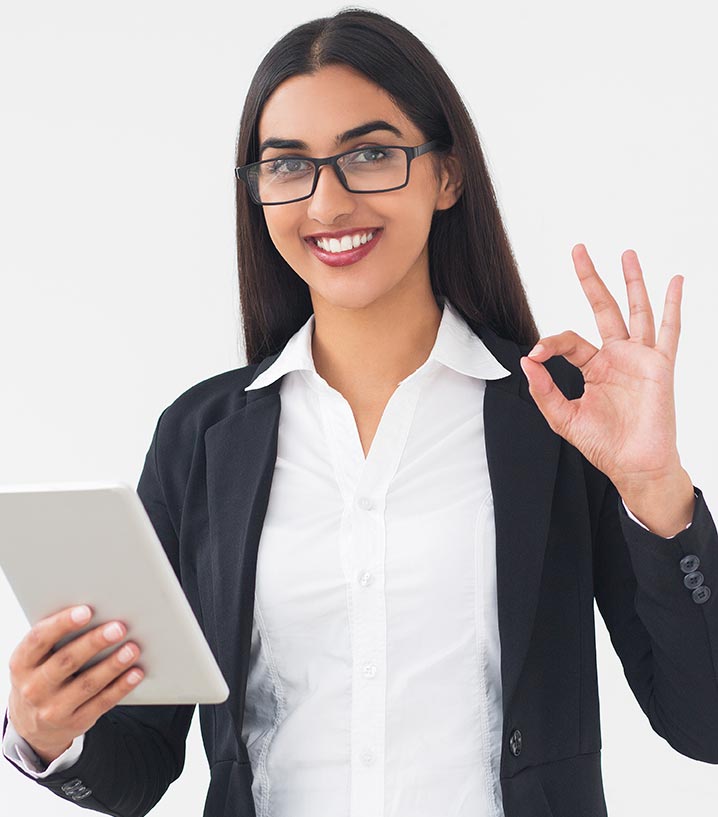 Objectives
Increase your knowledge of SAP solutions and the underlying business processes they support
Learn how to harness the power of SAP software for customers and employers
Get training in your speci c area of interest
Access the same curriculum that you would in an in-person training program.
Benefits
Increase your career and compensation potential
Master the features, functions, and con gu- ration of SAP software
Learn at your own speed and preferred schedule
Reduce costs with travel-free courses
Solution
Course content that provides knowledge and experience with SAP solutions
Flexible courses covering key areas such as nancial and management accounting, human capital management, and supply chain management
On-demand training where and when you want it
Support through Web-based chats, virtual meetings, and scheduled sessions with experts
University Collaboration with VACS
About Maratha Vidya Prasarak Samaj
M.V.P.Samaj, a par excellence knowledge centre, registered under Bombay Public Trust Act, is proud of itself having pool of more than 1,66,996 students in 323 educational institutions. Under the jurisdiction of University of Pune, Maharashtra University of Health Sciences, MSBTE, M.V.P. Samaj spearheading and propagating education from primary to upper crest management and professional stream like Medicine, Physiotherapy, Nursing, Pharmacy, Engineering, Polytechnic, Architecture and Computer Science etc. The Samaj has strived to create a niche for itself in the world of education, by uplifting the standard of education in the society.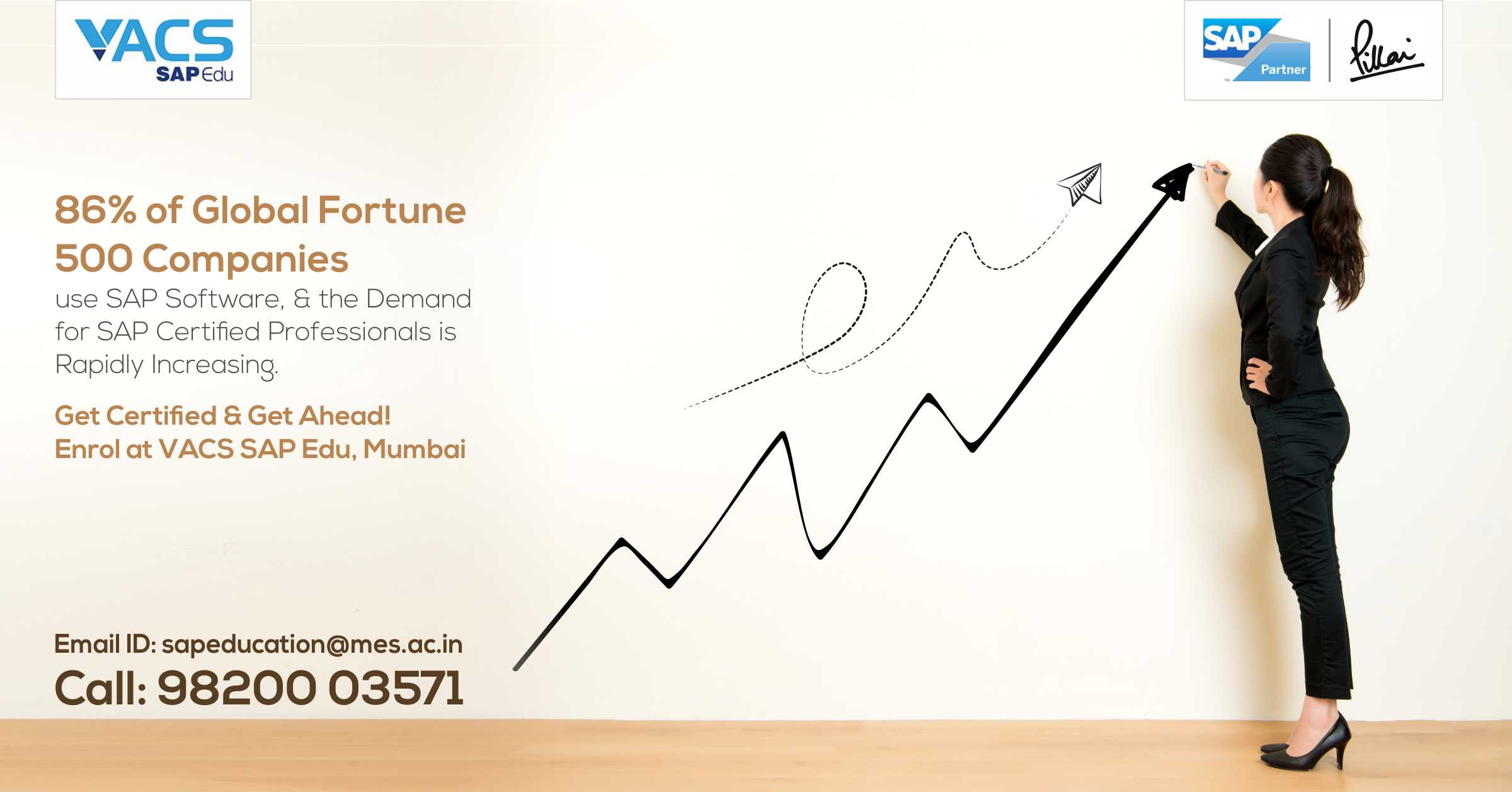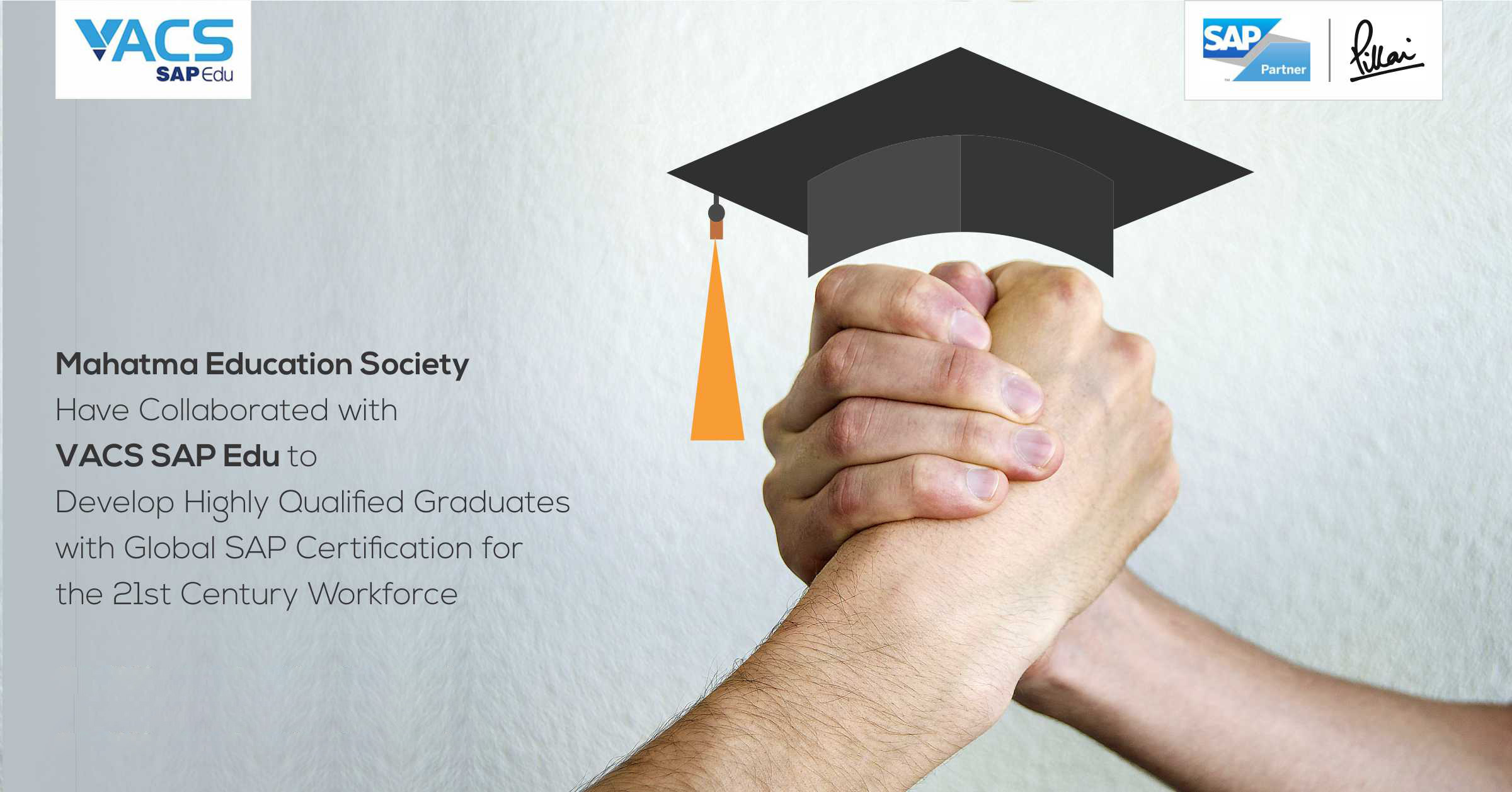 The Mahatma Education Society embarked upon its mission of "Education for all" with the Chembur English High School in the year 1970. The vision, dedication, global outlook, tenacious struggle and undaunted spirit of the Chairman and C.E.O., Dr. K. M. Vasudevan Pillai and the forward looking, untiring energy of the Secretary, Dr. (Mrs.) Daphne Pillai have now transformed the Mahatma Education Society in to a vast educational organization, spread over six elegant campuses at Chembur, New Panvel (Sector 7), New Panvel (Sector 8), New Panvel (Sector 16), Borivali (Gorai) and Rasayani (Raigad District).
The Society now manages a total of 48 educational institutions providing quality education from kindergarten to Post-graduate professional courses in the faculties of Engineering, Architecture, Management, Teachers Training, Arts, Science and Commerce to more than 35,000 students with 2,000 Teachers and 1,500 members of Non-Teaching Staff.
All institutions managed by Mahatma Education Society have excellent Professional Faculty, World Class Infrastructure, State-of-the art laboratories, well stocked libraries, computer centers with internet connectivity, seperate hostels for boys and girls, cafeteria, gymkhana and playgrounds.
Excellent results, 100% placement, interaction with the corporate world and global exposure are some of the special features of tne institutions run by Mahatma Education Society. Popularly known as the Pillai Group of Institutions, this education major has its own teacher training institutes, which allow it to define its own standards and to achieve 100% results unfailingly. Institutions managed by Mahatma Education Society are affiliated to the University of Mumbai, approved by AICTE / COA / NCTE and recognised by the DTE, Government of Maharashtra and accredited / graded by NAAC / NBA / DTE.